Todd Alcott has been a leader for most of his adult life.
A native of Bowling Green, Alcott spent over 21 years serving in the United States Air Force – traveling all over the world during his service with stops in Las Vegas, Italy, Guam, Virginia, Belgium, Washington D.C., South Korea, San Antonio, Kyrgyzstan, Germany and Iraq – and retired in the fall of 2016 as a lieutenant colonel.
Following his retirement from the armed forces, Alcott returned home to Bowling Green and began a second career – taking on a teaching role as the Junior Reserve Officer Training Corps (JROTC) teacher at Warren East High School, where he has now been for nearly five years.
But not only is Alcott a teacher in his post-Air Force life, but he also holds a pretty significant role in the city's government as he was elected mayor this past November and sworn in December 17.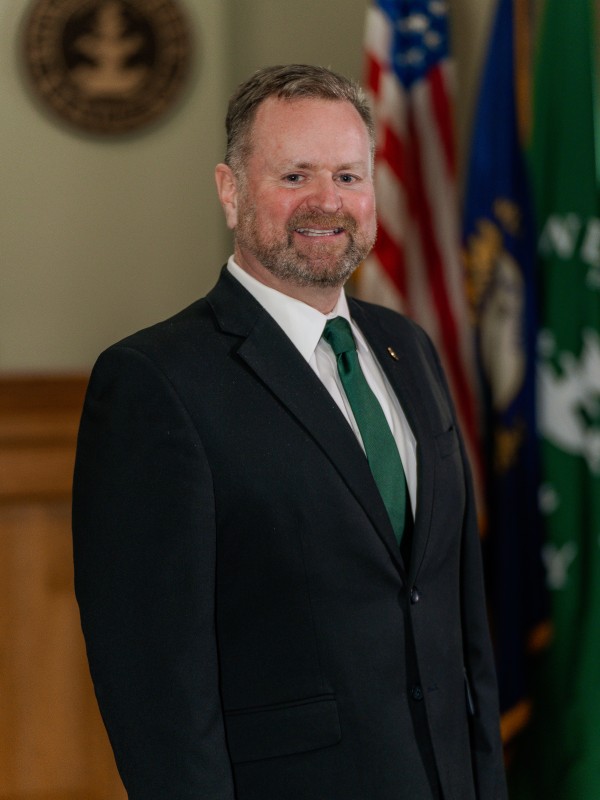 "I call it the firehose effect – it's kind of like drinking from the firehose," Alcott said of working as both mayor and teacher. "It kind of reminds me of being in military command, which I enjoyed. It reminds me of that tempo, of the fast pace and being approachable and reachable by the public.
My students see me in the same light that they saw me the last four years. It doesn't change who I am. When I'm at school, my priority is my students. Then, in the evenings, I'm there for my city. We're working members of the community, and people get to see that we're more than just politicians."
Long-serving City Commissioner Sue Parrigin thinks it's important and beneficial to have someone leading the city while they are also teaching students that could very well one day be working in government.
"He's in touch with the young people – the students – and he's teaching leadership skills," Parrigin said. "So, not only does he get to teach leadership skills, but he gets to exhibit them and use his leadership skills as he moves our community forward. I think that's really great."
When longtime Bowling Green Mayor Bruce Wilkerson announced he would not be running for reelection back in September, he endorsed Alcott, who ran against a pair of write-in candidates in Tom Morris and Chris Page.
While the election cycle was important due to the highly-followed presidential election between Donald Trump and Joe Biden, and with absentee ballots and write-in ballots having to be counted, Alcott had to wait longer than most politicians have in past runnings to find out the results.
He'll never forget the way he found out he had won the mayoral race.
"It actually took a couple of weeks for the election results to come out because we were all waiting for the president, and that was the priority," Alcott said. "There were a few elections that were sitting there without numbers, and mine was one because they had to count the write-in ballots. I think it was about eight or nine days before I received the information that I had won. I was teaching one day and I just called and got someone at (Warren County Clerk) Lynette Yates' office. They put me on hold and then they came back and said, 'OK, here's the results. By the way, congratulations!' It was a surreal moment."
Mayor Alcott has hit the ground running after already spending time preparing and strategizing before even being sworn in.
Having a strong relationship with the former mayor, Alcott said Wilkerson enabled him to attend his last three city commission meetings, allowing him to sit in and see firsthand how he operated and how the meetings were conducted. Additionally, Alcott was able to meet with the commissioners before they all went to work together, which helped them get off to a strong start.
"I was able to meet with all five of us before being sworn in," Alcott said. "We cannot meet together today unless we make a public announcement because that would be a quorum and we would have to invite the public. I was able to platform some of the things I wanted, and each of the commissioners were also able to do that. Everything has been smooth, and I'm very happy with the commission, my relationships with them and our bonding to work together as a team."
Mayor Alcott and the City Commision met Friday for their first strategic meeting of the 2021 calendar year. They've now met three total times in January, and they're set to meet again in February.
"I think he's transitioning just fine," Parrigin said. "There's a huge learning curve. There's a lot of history and a lot of things in place that you have to know, but he's up for the challenge. I think the first couple meetings that he's led have gone really, really well. I look forward to working with him and serving under his leadership."